In her break-out Stooges role as "Alice Andrews/Van Doren," Christine demonstrates that her voice is "not broken" for (L to R) Larry Fine, Curly Howard, and Moe Howard in this publicity still for MICRO-PHONIES (1945). Her featured song in this short, Strauss' "Voice of Spring," was a favorite of Christine's, and she often sang it in concert. It was producer Hugh McCollum's witnessing such a performance (perhaps one of Christine's 16mm musical short subjects) that gave him the inspiration for this well-liked Stooges short: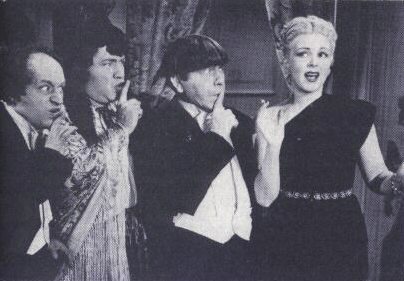 Here's a nice shot, a detail from a lobby card showing brunette Christine in one of her B Western features RIDERS OF THE WEST (1942). In the photo with her (from L to R) are Sarah Padden, Bud Osborne, and (roughing up Bud Osborne) the great Buck Jones: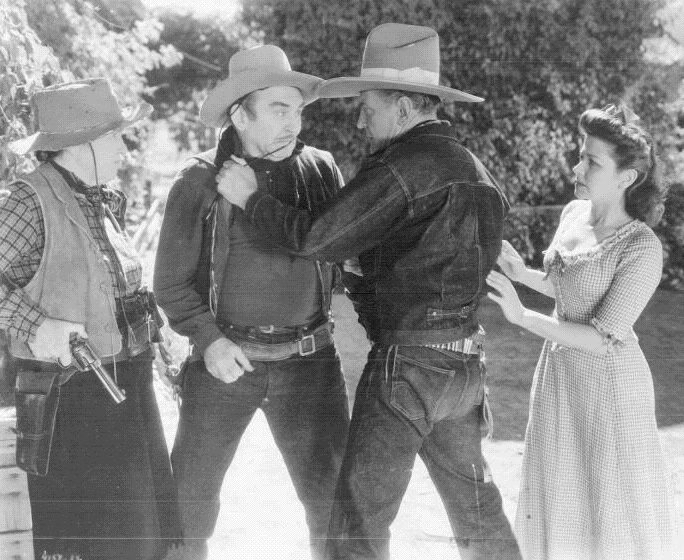 (Courtesy of Les Adams)


L to R are Larry Fine, Shemp and Moe Howard, Christine, and Herbert Evans (seated) in this publicity still from THE HOT SCOTS (1948):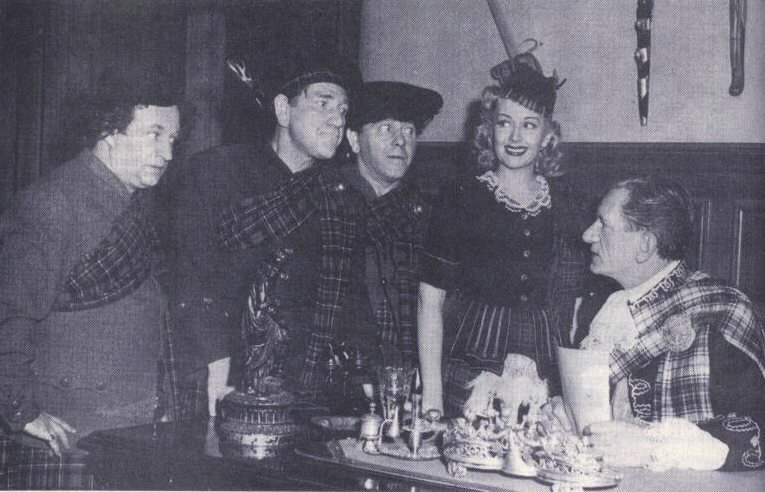 In this publicity still from 1946's THREE LITTLE PIRATES are, from L to R: Joe Palma, Curly Howard, and an unidentified pirate player about to be konked by Christine, as Rita Yolanda, on the far right: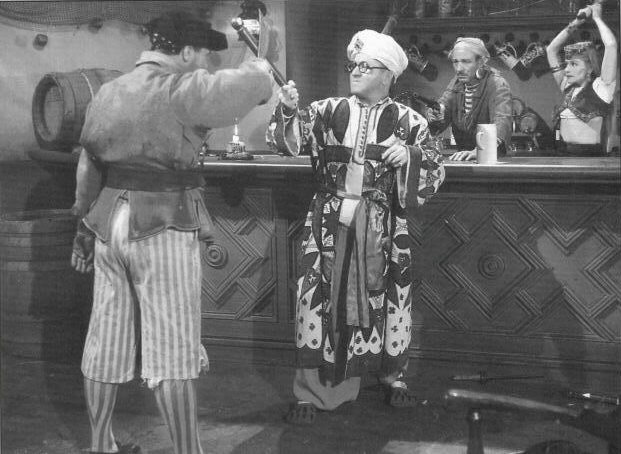 Here are a couple of pressbook ad-cuts, supplied by writer Les Adams, for the 1951 western feature WANTED: DEAD OR ALIVE where Christine played the female lead "Spangles Calhoun" opposite Whip Wilson...check out Christine totin' a mean rifle: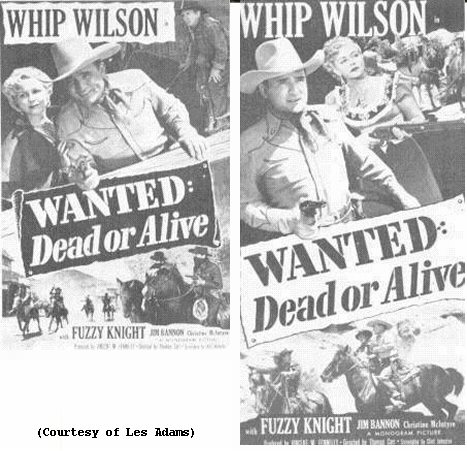 A remake of 1948's SQUAREHEADS OF THE ROUND TABLE -- KNUTZY KNIGHTS (1954) is essentially the same film, but with new scenes added (calling for the matching of new scenes to those shot six years previous...but in these struggling days for its shorts department, Columbia would reach back even further into the vault to save on rising production costs). In this publicty photo with Christine are from L to R: Larry Fine, Moe Howard, Ruth Godfrey, and Shemp Howard. (Of interest: Ruth Godfrey -- who was more often credited as "Ruth White" -- would go on to be cast one day in MIDNIGHT COWBOY [1969] as "Sally Buck," Jon Voight's grandmother in flashback scenes.) This would be one of the final publicty sittings Christine would do for Columbia, as she would retire from films soon afterward: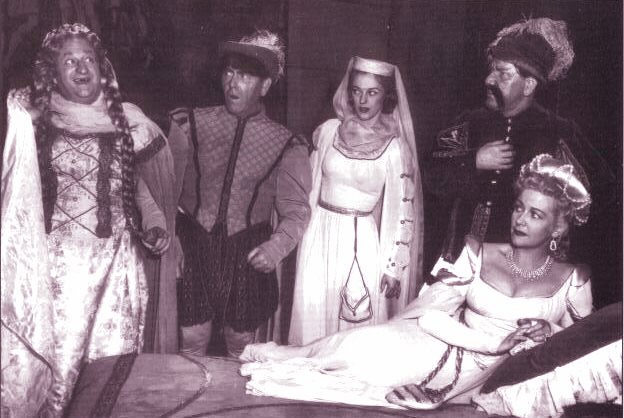 (Courtesy of Monica Leeson)


A one-sheet for DOPEY DICKS (1950):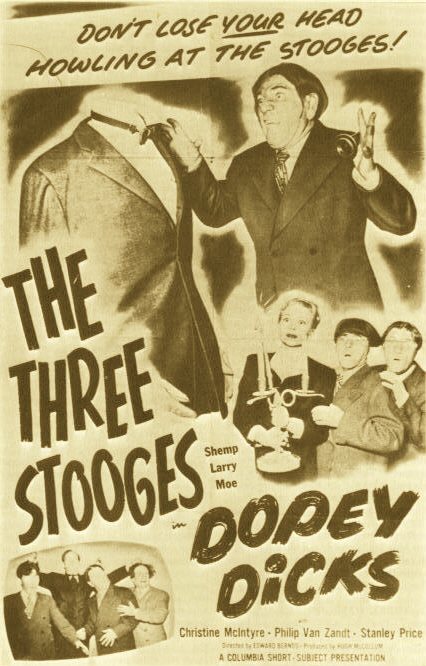 (Courtesy of Monica Leeson)


Poster for HE'S IN AGAIN (1949) [note that, though Christine shared the screen in this short with frequent Stooge foils Vernon Dent and Emil Sitka, and the short was produced and directed by the Stooge executive team of Hugh McCollum and Del Lord, this is not one of her Stooges films, but a Gus Schilling and Dick Lane short.]: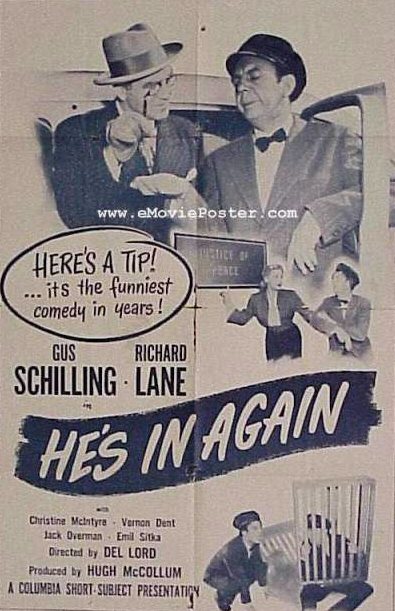 (Courtesy of Bruce Hershenson
http://www.eMovieposters.com)


Again, here's Christine (pre-Stooge & pre-blonde) on the far left of this publicty still from the Rough Riders' film RIDERS OF THE WEST (1942). [All the people in the photo have now (11/12/2000) been identified thanks to Les Adams...even the guy playing dead.] In the shot with her, from L-to-R, are Sarah Padden, Raymond Hatton (white coat), Harry Woods, Walter McGrail, Buck Jones (sitting on desk), and Bud Osborne. Kneeling on the floor is Dennis Moore looking down on a mortally supine Robert Frazer: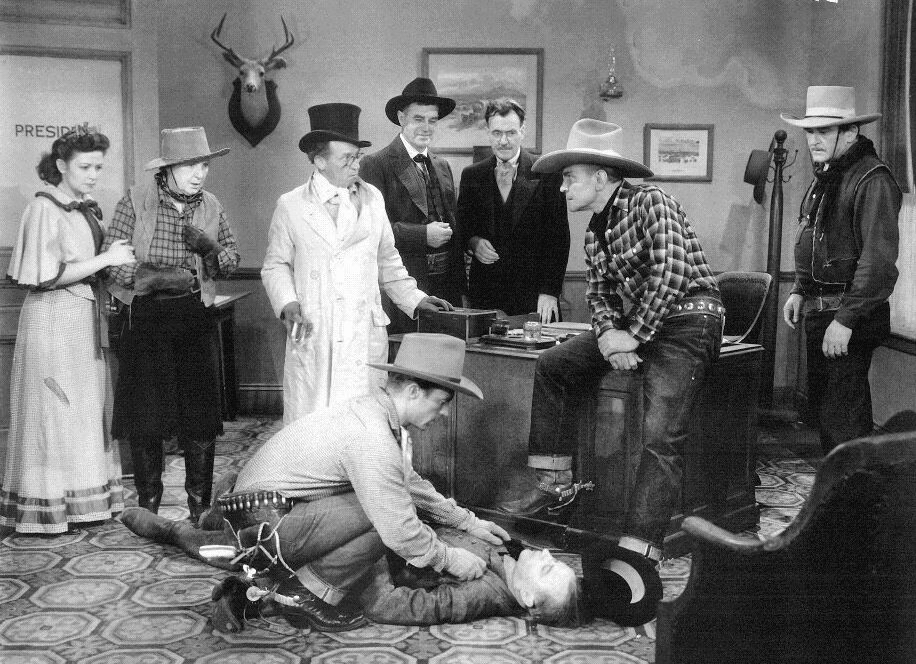 (Courtesy of Chuck Anderson http://www.surfnetinc.com/chuck/trio.htm)


In this Lobby Card for the 1942 Range Busters' adventure ROCK RIVER RENEGADES a dark-haired Christine (about 31 at this point) is menaced by a masked henchman, actor Frank Ellis: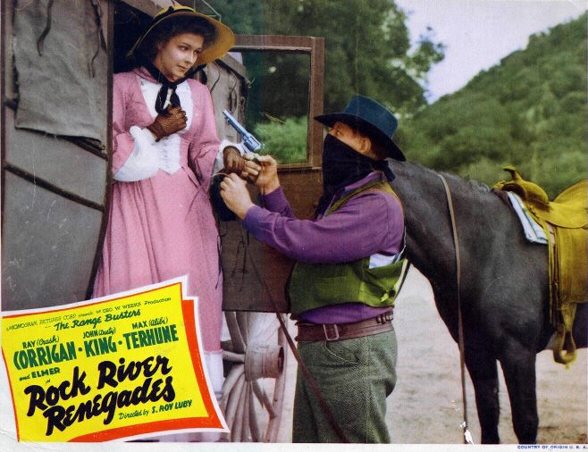 (Courtesy of Pat LaRosa
http://www.oldb-movies.com/)


Christine as "Princess Elaine" in another publicity shot for KNUTZY KNIGHTS (1954) featuring from L-to-R: Phil Van Zandt, Joe Palma, Moe Howard, unidentified player, Larry Fine, Vernon Dent (seated), unidentified player, Shemp Howard, Christine, and Jock Mahoney [billed as Jacques O'Mahoney in the original version SQUAREHEADS OF THE ROUND TABLE (see one-sheet below)] (Notice this print features an autograph by Mahoney). (If anyone can help me out with those "unidentified guys" please drop me a line -- I'm sure they must be "identified guys" to someone):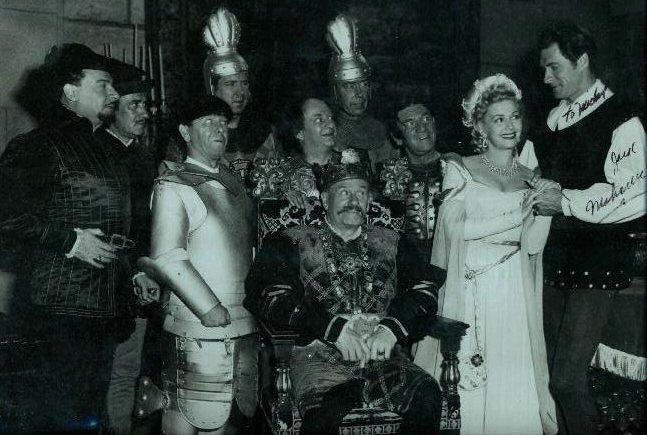 (Courtesy of Burt Shaw http://members.ebay.com/aboutme/shawbeach)


A nice one-sheet for SQUAREHEADS OF THE ROUND TABLE (1948) (notice the autograph of director Ed Bernds at the bottom):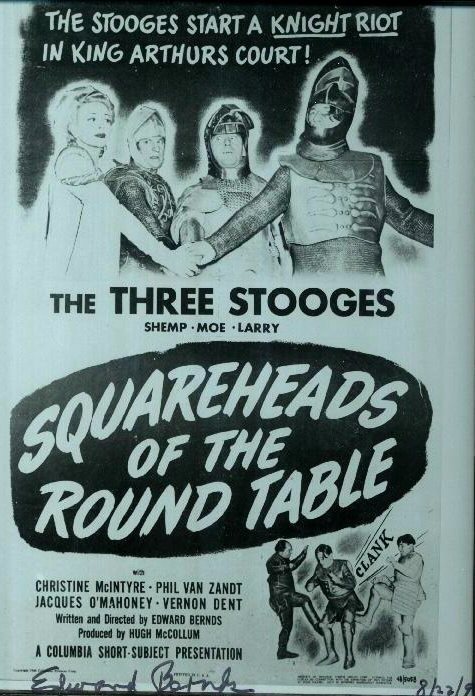 (Courtesy of Burt Shaw http://members.ebay.com/aboutme/shawbeach)


Here's a bit of fun...do you have any idea from which film this publicity shot was taken? If you do, just click on the picture and visit ShempCompany.com -- and drop a line to Shemp Howard's granddaughters, Jill and Sandie. It's kind of a little game they've got going over there. Remember, Christine made several comedy shorts with Shemp, minus the other Stooges (while Curly was still with the trio). [Update 4/12/2001: I now know that I have the correct answer, because I am now the happy owner of a copy of this film...but I'm not going to let the cat out of the bag.]: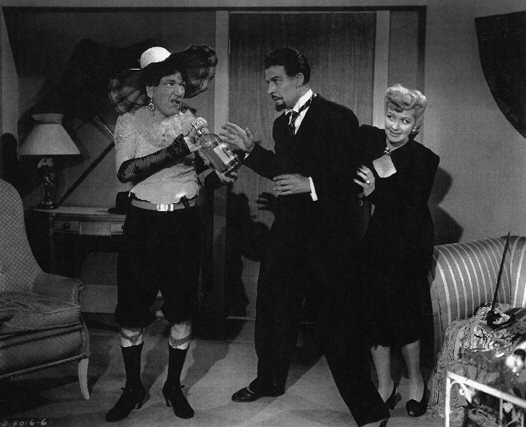 (Courtesy of...