Christine McIntyre FAQ's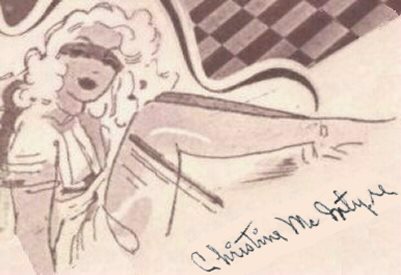 page last updated: 5/1/2003





[Since starting this site, I have gotten many, many emails from fans of Christine's. I have also received many of the same questions from a lot of folks, so I've finally arrived at an understanding of what makes FAQ pages so helpful. Here, then, are some of those frequently asked questions, and I will, as always, attempt to answer them to the best of my ability. I will also update, or correct, those answers as fresh details come to light. -- BT]



Q: Is there some connection between Christine and Quentin Tarantino's PULP FICTION?

A: In the scene where Eric Stolz gets the phone call from John Travolta (who wants help with an overdosed Uma Thurman), Stolz is first seen eating a bowl of cereal and watching BRIDELESS GROOM, a 1947 Stooge short, on television. Though you never get to see her face, later in the scene (as Stolz talks to Travolta on the phone) you can hear Christine's voice as "Miss Hopkins" (edited in out-of-sequence to how it appears in the original BRIDELESS GROOM). She blurts out the line, "How dare you strike me?" to Shemp Howard, whose faceless voice also makes an appearance in Tarantino's controversial 1994 film.




Q: Was Christine ever in a so-called A Feature, and did she ever appear onscreen in color?

A: Yes to both questions. THE SECRET LIFE OF WALTER MITTY, the 1947 Danny Kaye film, was both an A Feature and in color... and Chrisine McIntyre makes an all too brief appearance. When Kaye is hiding behind some curtains in a department store, Christine -- as "Miss Blair" the head of sales in the Lingerie Department -- gives a package to a sales clerk to be delivered (and in the package is important evidence which Kaye has just concealed). In just a couple of brief lines of dialogue, Chris manages to flash that famous smile of hers.




Q: Did Christine ever get hit with a pie onscreen?

A: Amazingly, I get periodic inquiries about whether or not Christine was ever hit with a pie in a Stooge short. For the record, I have seen all of Christine's Stooge work, and the majority of the rest of her Columbia Shorts work, and, while she never was the target of a Stooge pie (plus, you have to remember that pie-throwing was only a part of a fraction of the shorts, and not part of the plot in any of the two-reelers in which Christine was cast), she certainly was a team player when it came to physically messy slapstick. In LOVE AT FIRST BITE, as their European fiancÚs wait on the dock, the Stooges come flying down in front of them having been propelled there by a dynamite explosion.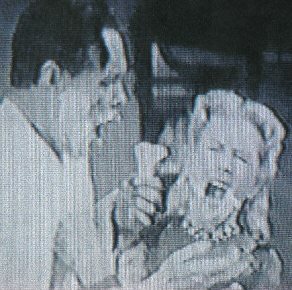 Shemp has landed with his feet still in cement and as his girlfriend runs to his arms, the two of them go hurdling off the pier and into the ocean. As they hit the water, they create a huge splash that douses the others, and Christine (as Katrina, Moe's true love) gets soaked good. Likewise, in THREE PESTS IN A MESS, as the con-girl, Chris is soaked by a Stooge-thrown bucketful of water. In non-Stooge Columbia shorts she took a good deal of punishment as well. Take, for instance, BRIDE AND GLOOM -- a solo Shemp Howard crashes into a fire hydrant, nearly drowning innocent bystander Christine (who is clearly not using a stunt double) in a torrent of water. In Harry Langdon's TO HEIR IS HUMAN, she is hit in the head by a statue. The Joe DeRita short JITTER BUGHOUSE has Chris getting water down the back; in the Schilling & Lane comedy WEDDING BELLE, she gets slapped in the face with a wet towel; and in the Hugh Herbert short GET ALONG LITTLE ZOMBIE, she gets whacked in the face with Dick Curtis' loaded shaving cream brush (pretty darn close to the effect of a pie). Perhaps Christine was subjected to the greatest comedic abuse in the Hugh Herbert short WOO WOO! -- here she not only gets hit in the head with a chandelier, but she also has a guitar broken over her poor noggin. That's the problem with many of these films being so inaccessible to the majority of film lovers... few fans now remember what a dedicated beating Christine was willing to take as a member of the Columbia stable of comedic actors.




Q: Is that really Christine singing in those movies?

A: Yes. Christine was a coloratura soprano and trained for the opera stage. She graduated with a B.A. in voice and drama from Chicago Musical College (now part of Roosevelt University), Class of 1933. Read more about her vocal training on the Biography Page, the Backstage/Everyday Page, and also the Music Page.



Q: When and why did Christine become a blonde?

A: Late in 1943 and early in 1944, it is evident from screen appearances that Christine's hair began to lighten. Her hair also appears slightly lighter than brunette in the 1942 Crash Corrigan feature ROCK RIVER RENEGADES which shows she was experimenting with it even back then (never mind how dark her hair looks in the colorized lobby cards from this film; when you view the actual black and white movie it is clear that her hair appears nearly dark blonde in some scenes). As to why, there are a couple of explanations. She had been in Hollywood for about seven years at this point, and her film career was spinning its wheels. It has been suggested that she felt it was time to reinvent herself. This also may have been the suggestion of her mentor at Columbia, producer Hugh McCollum, who may have felt that he could scare up more parts for a blonde Christine because the shorts unit was very heavy with brunettes at that time. This is given weight by how much her work with the Columbia Shorts department increased after the change, including several films where she was the inferred blonde in the title, including A KNIGHT AND A BLONDE (1944), THE BLONDE STAYED ON (1946), and TRAPPED BY A BLONDE (1949). It has also been suggested by someone who knew her, that Christine's hair had begun to turn gray prematurely in her early thirties, disaster for an actress still too young to be looking for "older woman" roles, and bleaching her hair was one way to deal with this problem.



Q: How tall was Christine?

A: The best approximation I've been able to arrive at is about 5'2" or 5'3". But this is a tricky question to answer (until some official record emerges), mostly due to inaccuracies in the reporting of the heights of some of her costars whose lives were more documented than hers. There is a popular belief that the main Stooge actors, (Howard, Fine, and Curly Howard) were all about 5'4" (Shemp appears to have been a little taller). Even accounting for high heels and upswept hairdos, Christine always seems slightly taller than this trio. But a couple reliable sources claim the Stooges were really more like 5'1", and if you compare them onscreen to some of their male costars this is not unbelievable (actually, I've come to believe it quite a lot). Why would any actor (or his representative) lie about his height? Probably good old vanity. Furthermore, mainstay Bowery Boy Leo Gorcey also seems to have had the same screen height as H., F., & H. when compared to Christine, and I have seen Leo's stature listed as 5'1", as well. Nick Bougas, a Hollywood autograph expert who was acquainted with Christine & Jay Wilson during the 1970's, says: "Christine was quite short... when I knew her. I'd say her height was certainly in the five two to five three area." Also, we have a mention of her height in DOPEY DICKS: Stanley Price, as the deranged butler, asks the Stooges when they ask him if he's seen Louise, Christine's character, "...About five feet two... with golden hair... blue eyes... long curling lashes?" The inclusion of these physical details into the script probably came from knowing them as fact with Chris right there on the set. So, for now, depending on the particular costar height theory to which you subscribe, Christine could have been anywhere between 5'2" or 5'5". My own eyes, until I am proven wrong, see her as a fraction of an inch under 5'3". [UPDATE 5/1/2003: Bill Cappello, who befriended Christine during the final decade of her life, writes, "I'm between 5' 7" and 5' 8", and you can see in the pic of her and me, that she's considerably shorter. I think your guess about her height being 5' 2" or 5' 3" is quite accurate. " To view the picture Bill C. mentions, and to read his article about his search for Christine, find the link on the Biography Page. -- BT]



Q: In certain sources, why do I keep seeing actor Buster Crabbe listed as one of Christine's B Western leading men, when none of his films are a part of her filmography?

A: There is no good reason to believe (right now, anyway) Christine ever appeared onscreen with Buster Crabbe. Then why does this idea keep getting passed around? Here is what Western Movie expert Les Adams has to say about the subject: "Those things start because there are those who still use data from incorrect sources, or get their info mixed up. There is some book or trade journal from many years ago that listed BORDER BUCKAROOS as a Buster Crabbe film [Dave O'Brien was the real star of this movie and Chris did costar in it with him -- BT], and one thing led to another from that piece of misinformation. Actually, I think one of the trade papers of the day announced that PRC had started production on BORDER BUCKAROOS starring Buster Crabbe. Trade papers usually had an item about every film that was currently in production, and they managed to get the cast info incorrect many, many times."







All Original Content On This Site
© 2000-2001-2002-2003-2004-2005 by William R. Telfer